DSG DQ200 Repair by Kinergo
The dry clutch 7 speed DSG gearbox suffers from several mechatronic faults. This manual details the issues that affect the Audi S Tronic, VW, Seat and Skoda, DSG 7 speed models which can be repaired and even upgraded with modified parts. This relates to DSG 7 Dry Clutch systems found on models with an engine capacity of under 2000cc with engine torque to 250Nm. This manual does not relate to the 0B5/DL501, DQ500, DQ381 and DQ382 DSG 7 gear wet clutch system equipped on the larger Audi models.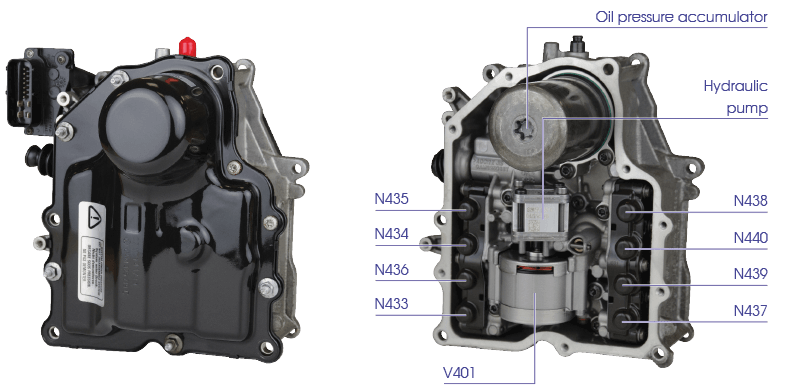 (V401 - Hydraulic pump motor, N433 - N440 - Solenoid's valves for control of pressured oil flow)
This version of the DSG gearbox is often referred to under a few different names including, 0AM, 0CW, 7DSG and DQ200. You can find this version of the transmission on the smaller engine models in the Audi, Seat, Skoda and VW vehicles.
Most common mechatronic faults:
P17BF - Hydraulic pump system overload protection

06079 - Hydraulic pump, play protection

P1895 - Vehicle not able to move

P189C / 006300 - Function Restriction due to Insufficient Pressure Build-Up

06293 - Function restriction due to pressure drop

P0841 / 17225 - Transmission Fluid Pressure Sensor/Switch 1
Kinergo repair kit allows you to perform the repair of the DSG 7 gearbox, eliminating the most common P17BF, P189C, P1895 or P0841 error, caused by cracks or plate cracks in the accumulator holding part. This crack causes low pressure, oil leakage and it also can start mechatronic pump protection and completely immobilize the vehicle.
Advantages against classic repair:
Quick & easy to install
No extra effort needed before installation
For some types of transmission, the repair is possible without taking out the plate itself
Allows you repairing the valve bodies with destroyed accumulator
Thread connection
Here is a video of montage of Kinergo repair kit: